...or, Thanks Mrs. Ciccone-Penn-Ritchie [I think that's the up-to-date list], you've been a big help...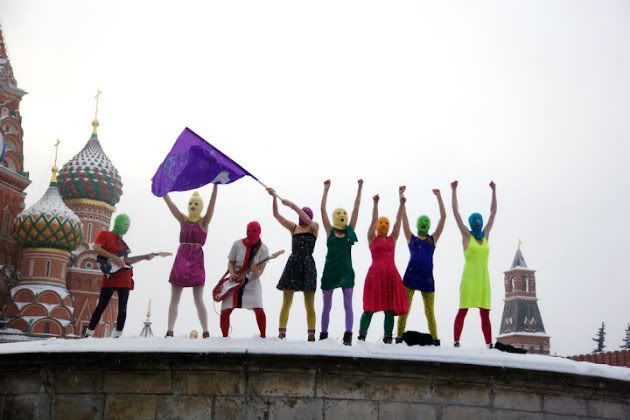 ...or, Czar Vlad is not amused...
Three members of Pussy Riot--a Russian punk band and feminist collective that mocked Russian president Vladamir Putin during a "punk prayer" in a Moscow cathedral--have been found guilty of hooliganism and sentenced to two years in jail.
Judge Marina Syrova announced the verdict from a district court in central Moscow, about two miles from the Christ the Saviour Cathedral where the guerrilla group performed its "flash" stunt.
"The girls' actions were sacrilegious, blasphemous and broke the church's rules," Syrova said.
Yep, that looks pretty blasphemous.
Now, kiddies, you know ol' Fyodor is no fan of blasphemy, but the "Orthodox" churches have been in schism for almost a millenium and the Russian church not only laid down with the commie fleas, it had sex with them.
I have no doubt these young ladies are loud-mouthed, no-talent morons but two years in a Russian prison is way too much.
I'm guessing they'll learn a few unpleasant truths there...
The band members--Nadezhda Tolokonnikova, 22, Maria Alyokhina, 24, and Yekaterina Samutsevich, 30--were arrested on March 3, several weeks after the performance, and charged with "hooliganism." They've been in jail ever since.
Prosecutors had sought a three-year sentence.
[Slideshow: Russian feminist punk band on trial]
Supporters outside the courthouse chanted "Shame!" as news of the verdict spread.
"They are in jail because it is Putin's personal revenge," Alexei Navalny, one of them, told Reuters. "This verdict was written by Vladimir Putin."
If you don't want Putin's Revenge, don't drink the Kool-Aid, my Russian cousins.
The trial drew enormous international interest, sparking catcalls from international free-speech advocates and spawning dozens of protests. There were several impromptu protests in Moscow, London, Paris, Barcelona and elsewhere on Friday, and numerous reports of arrests.
Madonna, Bjork, Paul McCartney and Courtney Love were among a long list of musicians to come out in support of Pussy Riot, calling on the Russian government to set the band members free. Last week in Berlin, more than 400 people joined a protest led by electro-singer Peaches.
"In one of the most extravagant displays," the Associated Press said, "Reykjavik Mayor Jon Gnarr rode through the streets of the Icelandic capital in a Gay Pride parade ... dressed like a band member--wearing a bright pink dress and matching balaclava--while lip-synching to one of Pussy Riot's songs.
"What started as "a punk-infused political prank," London's Independent said, "has rapidly snowballed into one of the most notorious court cases in post-Soviet Russian history."
But the 10-member Pussy Riot, inspired by the American "riot grrrl" movement and bands like Bikini Kill, vowed more protest performances.
Don't bother looking it up, kiddies. It's just spoiled bourgeois kids trying to be heard above the din of something or other in their lives [with some zoo-sex perversion thrown in to piss off mom and dad].
Come to think of it, that's exactly what the execrable Rolling Stones were. And still are.
Pussy Riot's stunt at Moscow's Christ the Savior Cathedral, a Russian Orthodox church, was a response, they said, to Patriarch Kirill's public support of Putin in the build-up to Russia's presidential election. Putin won a third term as president in March.
They are making an excellent point. Putin is a dictator and the Russian church needs to be on the side of freedom.
That being said, anyone who knows anything about the history of ol' Mother Russia knows this is the way it has always been and will always be until the Russian people grow up and rise up in a real revolution. Only then will they be able to put down the rabid dogs that have always plagued them - from Ivan to Lenin to Stalin to Putin.
It would be nice if everyone over there could wake up one morning and magically be small "d" democrats...
But that might only happen if everybody starts praying
for real...
"Holy Mother, send Putin packing!" the group sang.
I find it interesting these ladies implored the Blessed Mother's help. Odds are this was a puerile and cynical farce designed to highlight what they believe is the only exception [that proves the rule] to the "patriarchal fascism" of the heavenly order. [This isn't the place for a litany of the holy women in heaven, so I'll just type this: St. Cecelia, patroness of music and musicians, pray for them.] But I'm sure Our Lady can distinguish between the sincere and the insincere. I'm also sure she has no problem asking Our Lord to help those who don't believe.
Remember, kiddies, when the Blessed Virgin appeared in Fatima last century she asked us to pray for the conversion of Russia. Many assumed she meant we should pray for an end to the Soviet regime, but would the Queen of Heaven and Earth really want us to merely replace one murderous system with another that is much less murderous?
It's obvious Our Mother wants us to pray for the conversion of the Russian people and their return to full communion with Rome. [And, by extension, the healing of the Great Schism as well.] So, let's get to it, kiddies.
The Guardian called the trial, which began on July 30, "worse than Soviet era."
Now that's just stupid...or The Guardian is a left-fascist organ of obscurantism...
Silly Fyodor, everybody knows the answer to that one!
"By the end of the first week of Pussy Riot's trial," the Guardian's Miriam Elder wrote last week, "everyone in the shabby Moscow courthouse was tired. Guards, armed with submachine guns, grabbed journalists and threw them out of the room at will. The judge, perched in front of a shabby Russian flag, refused to look at the defense. And the police dog--a 100 [pound] black Rottweiler--no longer sat in the corner she had occupied since the start of Russia's trial of the year, but barked and foamed at the mouth as if she were in search of blood."
Lawyers for the women complained during the trial that the trio were being starved and tortured in prison. Two threatened to go on a hunger strike after they were initially jailed.
"Their treatment has caused deep disquiet among many Russians, who feel the women are--to coin a phrase from the 1967 trial of members of the Rolling Stones--butterflies being broken on a wheel," the BBC's Daniel Sandford wrote.
But don't marry him, girls. He'll just kill you [Oops, I mean "let you die"] when he's bored with you.
Syrova was subjected to unspecified threats during the trial, Russian authorities announced on Thursday--assigning bodyguards to protect her before and after she announced the verdict.
Several Russian pop stars, though, questioned the outpouring of support for Pussy Riot.
"What is so great about Pussy Riot that all these international stars support them?" Russian singer Valeria wrote on her website, according to Reuters. "They must be saying this because someone ordered them to."
No, sweetie. Remember
Fyodor's Rule #10:
You do not need a conspiracy if everyone thinks the same way.
Western celebrities hate God and freedom, so they see everything through hate colored glasses. They don't care about Pussy Riot or Russia or anything but themselves. Support for Pussy Riot is merely today's pose. Tomorrow they will shout just as vociferously in support of spaying and neutering.
"Art and politics are inseparable for us," the band said in an interview with the online newspaper Gazeta.ru in February. "We try to make political art. Performances and their rehearsals are our job. Life in Pussy Riot takes a lot of time."
That's pure dumbassery. [Isn't this national neologism month?] On a personal note, I'm really digging the colorful hoods they wear. Once upon a time, there was a little girl who wrote a song called "Every Girl Needs A Little Black Mask".