Bolshevik The Clown [The Gayest Clown Around, except for John Wayne Gacy] vomits forth another knee-slapper.
Obama: I'm not an overspender
- ABC via Yahoo! News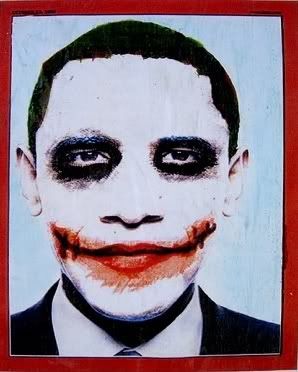 ...Obama was referring to an analysis released this week by Rex Nutting, a reporter for CBS MarketWatch who is also affiliated with the Wall Street Journal. Nutting concluded that Obama has presided over the slowest growth in federal spending in decades...
Almost everyone believes that Obama has presided over a massive increase in federal spending, an "inferno" of spending that threatens our jobs, our businesses and our children's future. Even Democrats seem to think it's true.
But it didn't happen. Although there was a big stimulus bill under Obama, federal spending is rising at the slowest pace since Dwight Eisenhower brought the Korean War to an end in the 1950s.
Even hapless Herbert Hoover managed to increase spending more than Obama has.
Here are the facts, according to the official government statistics:
• In the 2009 fiscal year — the last of George W. Bush's presidency — federal spending rose by 17.9% from $2.98 trillion to $3.52 trillion. Check the official numbers at the Office of Management and Budget.
• In fiscal 2010 — the first budget under Obama — spending fell 1.8% to $3.46 trillion.
I'm calling "shenanigans", kiddies. The key phrase above is "the
2009
fiscal year " which included ol' Jug Ears' so-called Stimulus I, a nearly $1 trillion vote-buying bribery scheme. The commies are trying to pin that one on CuriousGeorge BushMonkey.
The hapless Mr. Nutting is either a low grade moron or a commie agit-prop operative...or he's got a degree in journalism.
You don't have to take my word for it. Here's James Pethokoukis from the American Enterprise Institute's The Enterprise Blog:
Until Barack Obama took office in 2009, the United States had never spent more than 23.5% of GDP, with the exception of the World War II years of 1942-1946. Here's the Obama spending record:
– 25.2% of GDP in 2009
– 24.1% of GDP in 2010
– 24.1% of GDP in 2011
– 24.3% (estimates by the White House ) in 2012
What's more, if Obama wins another term, spending—according to his own budget—would never drop below 22.3% of GDP. If that forecast is right, spending during Obama's eight years in office would average 23.6% of GDP. That's higher than any single previous non-war year.
Yet financial columnist Rex Nutting of MarketWatch tries to portray the president as being downright stingy in a piece entitled, stunningly, "Obama spending binge never happened":
Of all the falsehoods told about President Barack Obama, the biggest whopper is the one about his reckless spending spree. As would-be president Mitt Romney tells it: "I will lead us out of this debt and spending inferno." Almost everyone believes that Obama has presided over a massive increase in federal spending, an "inferno" of spending that threatens our jobs, our businesses and our children's future. Even Democrats seem to think it's true. Government spending under Obama, including his signature stimulus bill, is rising at a 1.4% annualized pace — slower than at any time in nearly 60 years.
And here's the chart summarizing Nutting's argument: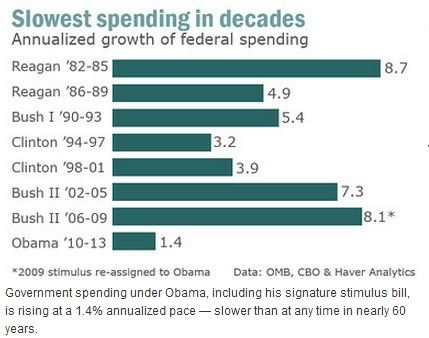 As the chart indicates, Nutting arrives at that 1.4% number by assigning 2009—when spending surged nearly 20%—to George W. Bush: "The 2009 fiscal year, which Republicans count as part of Obama's legacy, began four months before Obama moved into the White House. The major spending decisions in the 2009 fiscal year were made by George W. Bush and the previous Congress. Like a relief pitcher who comes into the game with the bases loaded, Obama came in with a budget in place that called for spending to increase by hundreds of billions of dollars in response to the worst economic and financial calamity in generations."
Let me complete the metaphor for Nutting: "Then as those runners scored, Obama kept putting more on base."
Obama chose not to reverse that elevated level of spending; thus he, along with congressional Democrats, are responsible for it. Only by establishing 2009 as the new baseline, something Republican budget hawks like Paul Ryan feared would happen, does Obama come off looking like a tightwad.

[Emphasis mine. - F.G.]

Obama has turned a one-off surge in spending due to the Great Recession into his permanent New Normal through 2016 and beyond.
It's as if one of my teenagers crashed our family minivan, and I had to buy a new one. And then, since I liked that new car smell so much, I decided to buy a new van every year for the rest of my life. I would indeed be a reckless spender.
Here is another way Nutting could have framed the spending issue:
The Obama spending record looks a little different now, yes?