"An evil handgun, tentatively identified as an Italian anarchist named Beretta by police sources, Saturday murdered a young woman in front of her three month old daughter, her baby's daddy, Kansas City Chiefs' linebacker Javon Belcher, and Belcher's mother.
The vile firearm then proceeded to force innocent bystander Belcher to drive to the team's practice facility, thank his coach and GM for all they had dome for him, and then blew poor Mr. Belcher's head clean off. Police, who had tracked the ghastly gat from the original crime scene despite Missouri's complete lack of stringent gun laws, also watched helplessly as Belcher was robbed of his promising and lucrative career.
Inexplicably, the perfidious piece then ceased its murderous rampage and fell to the ground, as if it were inert, or possibly playing possum. It was then taken into police custody without further incident.
Sources in the local District Attorney's office, speaking on condition of anonymity, said they will seek the meltdown penalty for the baffling blaster.
A local progressive clergyman speculated the horrific hand-cannon could have been possessed, perhaps by Satan himself..."

Demented? Heck no! Not if you are arch-racist sports goonalist Raceon Witless, the terminally overrated Bob Costas, or any other left-fascist AmericaLaster who KNOWS that only the government should have guns and they should only be used to force Catholics into sterilizing their women so they will become nulliparous whores just like all good American girls should be.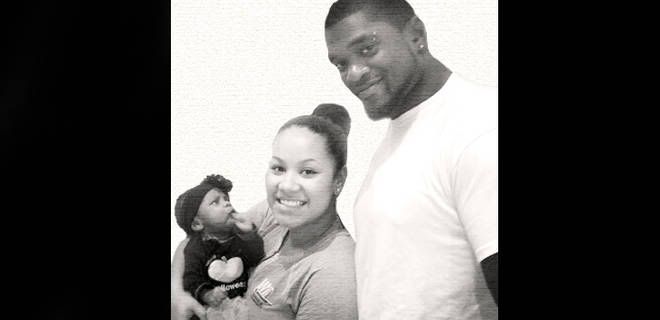 ABOVE: The late Jovan Belcher with his girlfriend, the late Kasandra M. Perkins, and child. Police say there is no truth to the rumor this photo was taken by the gun before its falling out with the family.

Steroids, football concussions, red meat consumption, and testosterone will also be blamed. And I'm a racist for suggesting the destruction of the black family by the plantation owners in the Party of Blasphemy, Buggery, and 'Bortion is to blame.