Heck, at least ol' Goober II was just trying to get laid...ah, the simpler times of yesteryear...

From Examiner.com:


While Barack Obama is mentioned by name over 100 times, God is no longer part of the Democratic Party platform, CBN reported Tuesday.
In 2008, the party platform read:
We need a government that stands up for the hopes, values, and interests of working people, and gives everyone willing to work hard the chance to make the most of their God-given potential.
But that plank has been rewritten to remove the phrase "God-given."
"We gather to reclaim the basic bargain that built the largest middle class and the most prosperous nation on Earth – the simple principle that in America, hard work should pay off, responsibility should be rewarded, and each one of us should be able to go as far as our talent and drive take us," the platform now reads.
God destroys Obama monument at DNC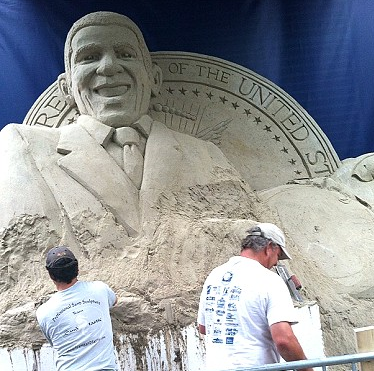 When God wanted to make a statement, the Bible cites the flood of Noah, the destruction of Sodom and Gomorrah, and the parting of the Red Sea as examples of His work. While His intervention in American politics is rare, the latest act of God may be a troubling sign for President Barack Obama.
According to a report by the Washington Times, a freak rainstorm has severely damaged a giant sand sculpture of Barack Obama erected at the Democratic National Convention in Charlotte, North Carolina. The Mount Rushmore-like sculpture, which had been dubbed "Mount Obama," collapsed on its right side, and suffered major surface damage. The head and left side remained largely intact while workers frantically tried to repair the sculpture Saturday afternoon.
Even though the sand sculpture was covered, the sudden thunderstorm that popped up Saturday afternoon was so intense, winds blew rain sideways into the sculpture, causing most of the water damage. The sculpture was created by artist Mark Mason, and was erected just outside the Time Warner Cable Arena in Charlotte.
Republicans had criticized the sculpture as indicative of the President's ego, and its destruction could be seen as a heavenly endorsement of Gov. Mitt Romney. Even those who do not believe the "divine retribution" theory will likely see the irony that the environment or global warming may have caused Mount Obama's downfall.