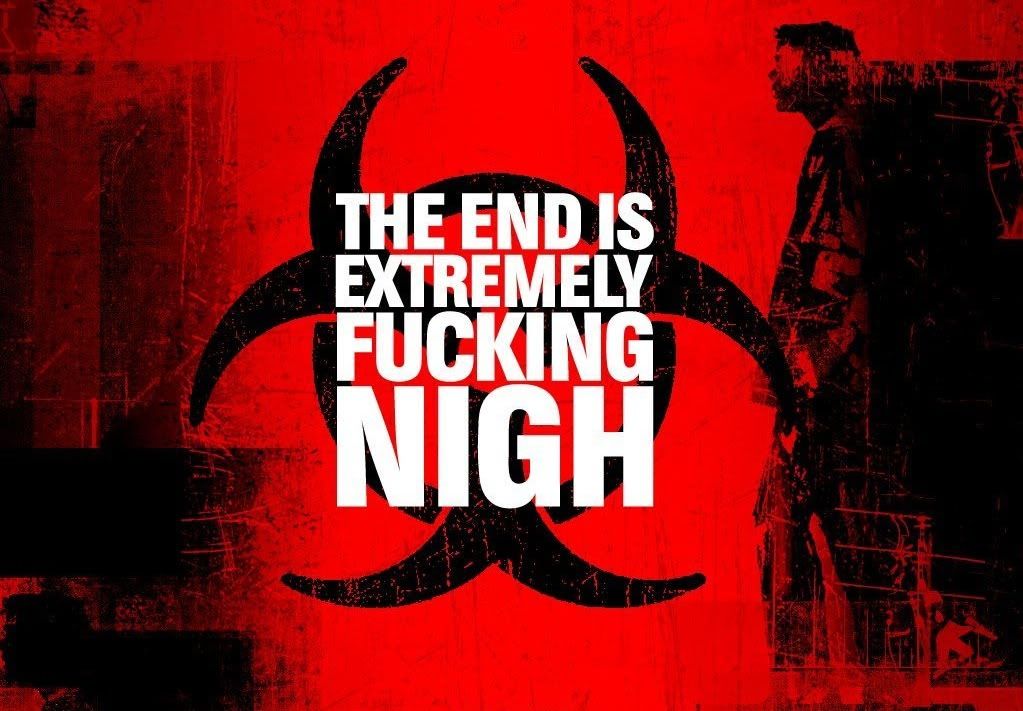 You can bet your sweet bippie [Oooo! That's so '60's!] Gruppenführer Krugman knows zombies and Nazis all too well.
Paul Krugman didn't call out colleague Andrew Ross Sorkin by name, but when the Nobel prize winning economist and New York Times columnist dismissed a group of CNBC interviewers as having "zombie ideas" in his blog Wednesday, that group included Sorkin. Maybe Krugman is getting bored of fighting with fellow Times columnist David Brooks, and has found someone else at his paper to swipe at.
- The Atlantic Wire via Yahoo! News
The greatest economic genius ever born of woman [The Community Organizer From The High-Yellow Lagoon - emphasis on the goon] scoops out our brains, pisses in our skulls, and calls it lemonade. [Ahhhh...the mixing of the metaphors.]
From CNBC via Yahoo Malaysia News:
Uncertainty about U.S. fiscal policy, Europe's sovereign crisis and slower global growth have turned the U.S. economy into what feels like a slow-moving zombie, leaving businesses and consumers hesitant and reluctant to act.
Those factors combined to hit business confidence and have led to slower activity, evident in Friday's report showing just 80,000 new jobs created in June. That follows a sluggish 77,000 payrolls in May and 68,000 in April, making the second quarter the worst quarter for jobs in two years.
That report sparked immediate market talk of a new round of asset purchases or "quantitative easing" by the Fed, but the number was not weak enough to generate a clear consensus on when or whether the Fed would act.
CRT Capital Senior Treasury Strategist Ian Lyngen said the economy feels zombie-like. "The risk taking animal spirits have yet to return," he said.
Europe's debt crisis and the ongoing drag of deleveraging have made the second leg of the recovery troublesome.
"The U.S. economy has been unable to achieve escape velocity but the amount of monetary and fiscal stimulus in the system has proven adequate enough to keep it going at a 1-2 percent GDP pace. That is slow by historic recovery standards...it feels like a 'zomb'-economy," said Lyngen.
"People are increasingly worried about a double dip," he said.
"It feels like it's sleepwalking," Moody's Economy.com chief economist Mark Zandi said of the economy. "We're walking but not going anywhere fast. I don't think we're dead like a zombie. There is some life underneath, but we are sleepwalking. The reality is people are so nervous and shell shocked, it doesn't take much to get them to stop what they're doing."
From PRWeb [via Yahoo News, of course] comes this terrifying tale of evil capitalists profiting at the expense of our poor zombie neighbors:
GetFantasized.com allows everyone to stop or join the

zombie apocalypse

, all you need is a camera.
Miami, Florida

(PRWEB) June 21, 2012
There is proof that the zombie apocalypse is real, and now anyone can take part without sniffing bath salts or eating someone's face. In just 5 easy steps, http://www.getfantasized.com allows

zombie fans

to either become a zombie or kill your most hated zombie politician in cinematic fashion, and offers

custom art prints

that can be shared online or displayed on a wall. Prints and digital downloads are available in 8" x11" up to to 24"x36" with prices starting at $19.95.
GetFantasized.com allows customers with a penchant for the macabre to select pre-rendered designs created by leading digital illustrators from the entertainment industry. Unlike many photo filter apps, Get Fantasized allows the user to get a professionally rendered image by a trained artist. "The quality difference is night and day, it's like the difference between getting something that looks rendered by a computer versus an image straight out of a Hollywood studio," remarked Get Fantasized CEO Scott Ownbey.
Each design provides an easy to use guide that instructs the user how to shoot their photo in order to be inserted into the selected design. No need to be a professional photographer as most users can upload photos taken with an iPhone 4s or any camera phone with the ability to shoot in HD. Once the photo is uploaded to the website it goes through a retouching and printing process before it is delivered on museum quality art paper or poster prints. The entire process takes 5-10 days.
"Our most popular designs allow you to slash the zombie version of popular polarizing politicians," remarked Ownbey.
"Customers will be able to battle a zombie version of Obama, Romney, or Scott Walker and immortalize the event in a custom art print to hang on their wall or share in their favorite social media application."
To stop or join the zombie apocalypse you need to look no further.
And finally [Hah!] every HR drone's worst nightmare...
Having a warm body fill that vacant seat in your office may seem like a better option than nothing, but beware: Your new hire could be a zombie.
- Mashable via Yahoo! News