Let's dissect the the latest horrorshow, shall we?

From ABC via Yahoo! News:
Transcript: Robin Roberts ABC News Interview With President Obama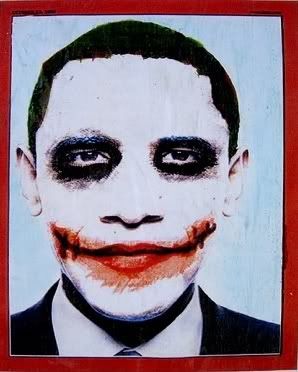 Benito answers a question about sodomites being allowed to play "house" with each other
...At a certain point, I've just concluded that-- for me personally, it is important for me to go ahead and affirm that-- I think same-sex couples should be able to get married. Now-- I have to tell you that part of my hesitation on this has also been I didn't want to nationalize the issue. There's a tendency when I weigh in to think suddenly it becomes political and it becomes polarized.
And what you're seeing is, I think, states working through this issue-- in fits and starts, all across the country. Different communities are arriving at different conclusions, at different times. And I think that's a healthy process and a healthy debate. And I continue to believe that this is an issue that is gonna be worked out at the local level, because historically, this has not been a federal issue, what's recognized as a marriage.
Racist!
ROBIN ROBERTS: Well, Mr. President, it's-- it's not being worked out on the state level. We saw that Tuesday in North Carolina, the 30th state to announce its ban on gay marriage.
PRESIDENT OBAMA: Well-- well-- well, what I'm saying is is that different states are coming to different conclusions. But this debate is taking place-- at a local level. And I think the whole country is evolving and changing. And-- you know, one of the things that I'd like to see is-- that a conversation continue in a respectful way.
I think it's important to recognize that-- folks-- who-- feel very strongly that marriage should be defined narrowly as-- between a man and a woman-- many of them are not coming at it from a mean-spirited perspective. They're coming at it because they care about families. And-- they-- they have a different understanding, in terms of-- you know, what the word "marriage" should mean. And I-- a bunch of 'em are friends of mine-- you know, pastors and-- you know, people who-- I deeply respect...
Oh-oh. It must be election time. He's droppin' letters to get street cred.
*

An Asian presiphant, of course. An African presiphant would be racist.