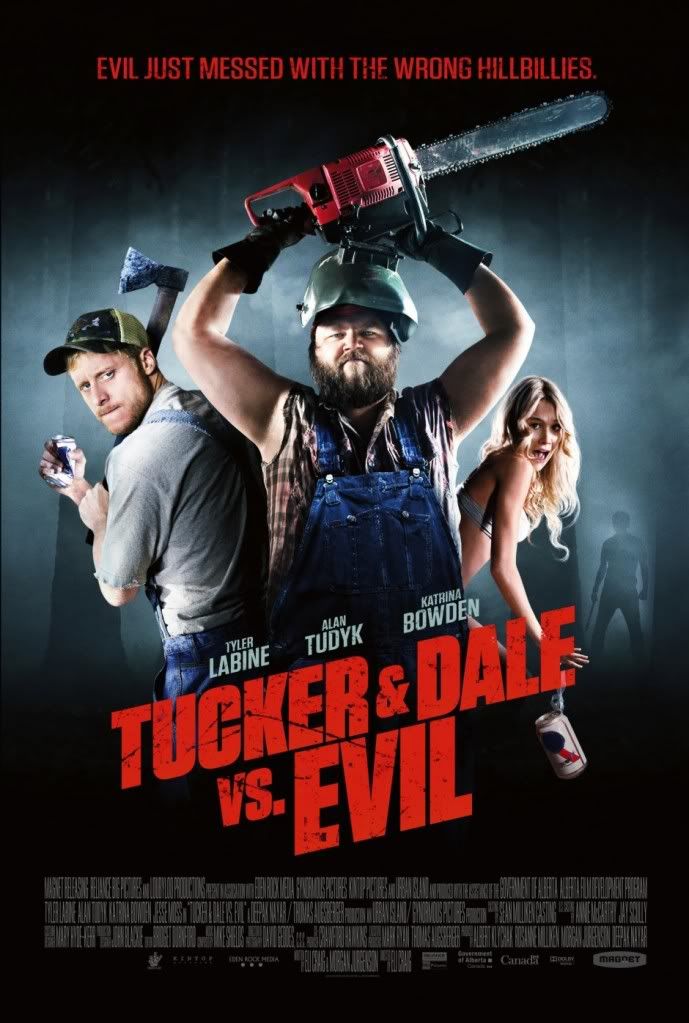 Starring the always underrated Tyler Labine, Katrina Bowden [Cerie from 30 Rock. Please don't hold that against her. She has to pay the rent somehow.], who gets to show off the cutest tummy this reviewer has seen in quite some time [See the next post for visual confirmation], and Alan Tudyk, whom I consider to be the show stealer here. There's a lot of bloody cartoon violence and some inappropriate language that is really unnecessary, [Seriously. Try making one without it and see what happens.] so it's not for the little kiddies, kiddies. It's not an all-timer, but it's fun and it's dumb.

Tucker and Dale vs Evil (2010)
From IMDB:
Two lovable West Virginian hillbillies, are headed to their "fixer-upper" vacation cabin to drink some beer, do some fishin', and have a good time. But when they run into a group of preppy college kids who assume from their looks that they must be in-bred, chainsaw wielding killers, Tucker & Dale's vacation takes a bloody & hilarious turn for the worse.
R
ated R for bloody horror violence, language and brief nudity
Release Date:
(Kazakhstan)
????????
Box Office
Opening Weekend:
LVL 1,678 (Latvia) (12 December 2010) (1 Screen)
???????????
Gross:
$222,011 (USA) (20 November 2011)
Fyodor's Rating

: 3 cannoli [out of 5]