Was our first sodomite clown presiphant* trying to amuse his sodomite audience or was he coyly implying he and Myhell are really, really, really "down" with their particular agenda of perversion? ["He" does seem to pander to all sorts of perverts, doesn't he?]
All the chatter about this kerfuffle is curiously hetero-centric. Couldn't he have been quipping about our first "gay" [She never seems to be happy when I see her though.] First Lady enjoying a little non-Euclidean action on the side? Maybe she's tired of the "zebra" [Thanks to Chris Rock for that elegant neologism.] and wanted to try America's third-whitest dyke, Ellen DeGenerate.
If all he did was joke about his wife's aversion to fellatio, he's just an asshole.
From the New York Daily News:
President's possibly risqué comment about wife's pushups provokes laughter at fundraiser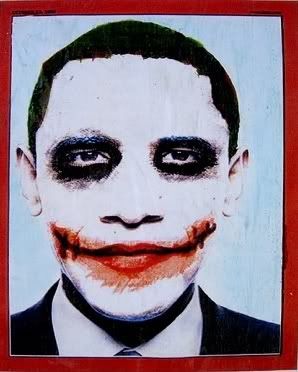 President Obama is chasing green, but his humor may be turning blue.
A comment by the commander-in-chief about his wife's exercise routine sent snickers through a crowd of Hollywood's gay and lesbian elite who gathered at an LGBT Leadership Council gala in Beverly Hills on Wednesday for a fund-raiser.
After being introduced by emcee Ellen DeGeneres, Obama called the comedian "a great friend who accepts a little bit of teasing about Michelle beating her in pushups" when the First Lady appeared on her show, the Los Angeles Times reported.
"I think she claims Michelle didn't go all the way down," Obama quipped.
Here's the video from Youtube.

[
Did Obama Make Blowjob Joke At California Fundraiser "Michelle Doesn't Go All The Way Down"
]
Decide for yourselves if, as the White

[Racist.]

House and the AmericaLast media contend, he was merely joking about his wife's strong arms or if he implied something else.
The audience, which included cast members from "Glee," "Modern Family's" Jesse Tyler Ferguson and Cher, reportedly giggled before breaking out in naughty laughter.
"That's what I heard," the President added, after pausing, according to a report published by Politico. He later noted the First Lady outdoes him in pushups as well.
Though Obama reportedly seemed caught off guard by the crowd's reaction to his comment, at least some interpreted it as bawdy.
"He told a very suggestive joke about his wife," Fox News commentator Todd Starnes wrote on Facebook.
Wednesday's gala and a $25,000-per-person dinner at the home of "Glee" co-creator Ryan Murphy that followed were expected to raise $3 million for the President's reelection, Variety reported.
Obama started his day Thursday with another fund-raiser — his 153rd since launching his reelection bid last year, according to Politico.
"It must be tough being President when there are so many parties to attend," Matt Connelly, a Republican National Committee spokesman told a Southern California wire service.
More from the UK's Daily Mail:
Did President Barack Obama make a rude joke about his wife Michelle and oral sex at a Beverly Hills fundraiser for the Lesbian Gay Bisexual and Transgender (LGBT) Leadership Council?
Talking to some 600 supporters at the event on Wednesday night, Obama referred to Ellen DeGeneres, the stand-up comedian and television host and a lesbian.
'I want to thank my wonderful friend who accepts a little bit of teasing about Michelle beating her in push-ups but I think she claims Michelle didn't go all the way down,' he said. The crowd erupted into what the Los Angeles Times described as 'bawdy laughter'.
In the pool report of the event, Todd Gillman of the Dallas Morning News, wrote that this was a line that Obama 'let hang, naughtily, provoking laughter from the crowd'.
It remained unclear, however, whether Obama uttered a deliberate double entendre about his wife having oral sex with a lesbian or whether he simply stumbled into using a phrase that was misinterpreted.
The LA Times plumped for the latter interpretation, reporting that 'the president seemed briefly caught off-stride when the audience interpreted as off-colour a joke he made about a push-up competition between DeGeneres and his wife, initiated by the talk show host in February'.
After the bawdy laughter, the newspaper continued: 'Obama kept a straight face. "That's what I heard," he added. "I just want to set the record straight. Michelle outdoes me in push-ups as well. You shouldn't feel bad."'
*

An Asian presiphant of course. An African presiphant would be racist.